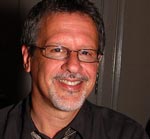 Michael Salvatori is an American producer and composer of music. He has worked closely with Martin O'Donnell to produce the music of the Halo universe. His extensive involvement has included work on Halo: Combat Evolved and Halo 2, as well as deep cooperation in the Halo: Original Soundtrack, the Halo 2: Original Soundtrack, and the Halo 3: Original Soundtrack. He also helped score and produce the Halo 3: ODST Original Soundtrack, as well as the Halo: Reach Original Soundtrack alongside Martin O'Donnell.
He is credited as Mike Salvatori in the Halo 4 credits.
Ad blocker interference detected!
Wikia is a free-to-use site that makes money from advertising. We have a modified experience for viewers using ad blockers

Wikia is not accessible if you've made further modifications. Remove the custom ad blocker rule(s) and the page will load as expected.