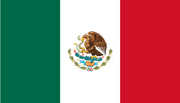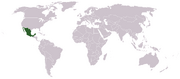 Mexico is a country on Earth located in North America. Its capital is Mexico City. It is bordered by the United States to the north. It is a part of the United Republic of North America, with the nations of Canada and the United States.
Main article: Battle of Earth
In late 2552, SPARTAN-104, SPARTAN-058 and SPARTAN-043 used the Base Segundo Terra as a staging point to attack the Covenant incursions on Havana.[1]
Locations
Edit