| | |
| --- | --- |
| | This article may not meet Halo Nation's standards. You can help by cleaning this article. |
The Halo Odd Pods Series 1 is the first series in McFarlane's Odd Pods. They featured four different figures; two from Halo 3 Matchmaking and the other two from campaign. Odd Pods can be popped apart to have interchangeable heads, torsos and arms for countless customization possibilities, similar to how action figures have interchangeable armor.
Master Chief
Edit


The Master Chief Odd Pod is based on John-117 from the Halo trilogy. It comes with an MA5C Assault Rifle specially made for Odd Pods.
Brute Chieftain
Edit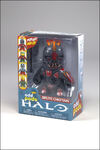 The Brute Chieftain Odd Pod is from the Brute Chieftains in Halo 3 campaign. It comes with a mini Gravity Hammer.
Matchmaking
Edit
Spartan EVA
Edit

The Spartan EVA Odd Pod is a Spartan figure in red EVA armor. It is equipped with a MA5C Assault Rifle.
Spartan EOD
Edit
The Spartan EOD Odd Pod is a Spartan figure in steel EOD armor. It is equipped with a MA5C Assault Rifle.
Ad blocker interference detected!
Wikia is a free-to-use site that makes money from advertising. We have a modified experience for viewers using ad blockers

Wikia is not accessible if you've made further modifications. Remove the custom ad blocker rule(s) and the page will load as expected.