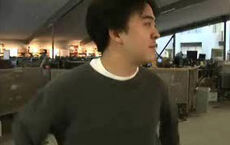 Mat Noguchi was one of the programmers of Halo: Combat Evolved and Halo 2. He joined Bungie in 2000. He was a Developer in Microsoft's Visual Studio for about 6 months, but was under worked. So, since Mat always wanted to be in the gaming industry, he jumped at a chance to transfer to Bungie as a tools programmer.
Right away he was put to work on the Halo: Combat Evolved team.
Ad blocker interference detected!
Wikia is a free-to-use site that makes money from advertising. We have a modified experience for viewers using ad blockers

Wikia is not accessible if you've made further modifications. Remove the custom ad blocker rule(s) and the page will load as expected.