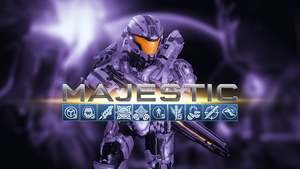 The Majestic map pack is the second DLC map pack released for use in War Games, Forge, or Custom Games on Halo 4. It includes three new maps and was released on February 25, 2013, for $9.99 USD or for free with the War Games Map Pass.[1]
Maps
Landfall
Main article: Landfall
Landfall is set on the planet Tribute during a recreation of the Battle of Tribute from the Human-Covenant war.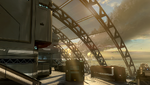 Monolith
Main article: Monolith
Monolith is set in an asteroid belt on a Forerunner monument to the Human-Forerunner war.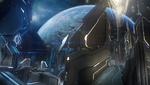 Skyline
Main article: Skyline
Skyline is set on a space tether that is being constructed.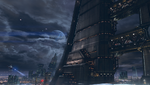 Achievements
The Majestic map pack includes ten additional achievements worth a total of 250 Gamerscore.[2]
| Image | Name | Description | Value |
| --- | --- | --- | --- |
| | Callin' in the Big Guns | In Majestic DLC matchmaking, call in 3 ordnance drops during the same game. | 40G |
| | I Thrust at Thee | In Majestic DLC matchmaking, perform a melee kill right after using Thrust Pack. | 20G |
| | Didn't See It Comin' | In Majestic DLC matchmaking, assassinate an enemy who's in zoom mode. | 10G |
| | Bird of Prey | In Majestic DLC matchmaking, perform 5 'airsassinations'. | 50G |
| | Bullet Sponge | In Majestic DLC matchmaking, get the 'Close Call' medal twice during one match. | 30G |
| | I See You! | In Majestic DLC matchmaking, kill 5 enemies while Promethean Vision is active. | 10G |
| | Clever Girl | In Majestic DLC matchmaking, kill 5 enemies while Active Camo is active. | 10G |
| | Flash of Light | In Majestic DLC matchmaking, get a Double Kill or higher with one Pulse Grenade. | 30G |
| | Last Man Grinning | In Majestic DLC matchmaking, get 4 kills using the SAW without dying. | 20G |
| | Pigs Can Fly | In Majestic DLC matchmaking, kill 3 enemies while they are using Jet Packs. | 30G |
Trivia
Video
Sources
↑ Halo Waypoint – Halo 4 Majestic Map Pack Delivers Close-Quarters Action alongside New Game Type and Playlists on Feb. 25