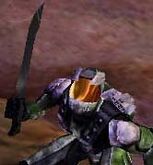 The Machete was a melee weapon that was originally planned to be included in Halo: Combat Evolved. Though it was not included in the final game, it appears on the difficulty shields.
Deleted Material
Edit
Machete is part of the Deleted Material cut from the Halo Franchise.
When developing Halo: Combat Evolved, Bungie faced numerous prototypes during the pre-production and considered cutting down to a certain number of objects for the final bit of Halo: Combat Evolved.
As such, many aspects of the story such as vehicles, gameplay, design, and story elements didn't make it into the final version of Halo: Combat Evolved.
Deleted Material

Deleted Levels
Weapons

Vehicles

Species
Flood Forms
Other