MJOLNIR Powered Assault Armor/Recruit
Talk

0
8,255pages on
this wiki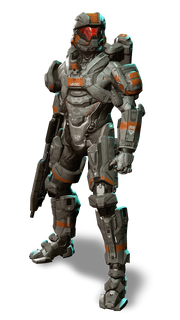 The MJOLNIR GEN2 PAA/Recruit is a variant of the MJOLNIR [GEN2]. It is manufactured by Hannibal Weapon Systems and is used by all new members of the SPARTAN IV Program.[1] The frigate FFG-045 houses a testing facility which at one point tested the Recruit forearms.[2]
This armor is the default armor in Halo 4.
The helmet seems to be a mix of the Mark-VI and ODST helmets.
The helmet bears resemblance to that of a Hornet pilot in Halo 3.
The shoulders have a similarity with the FJ/PARA shoulders.
All Spartan-IVs in Campaign and Spartan Ops of Halo 4 are seen wearing this armor.
It is not known why Fireteam Crimson and Fireteam Majestic have custom sets of armor and other Spartan IVs only have standard Recruit armor.
The Prime skin is available for this armor in the Halo 4 Limited Edition and Halo 4: GOTY.