MJOLNIR Powered Assault Armor/FOTUS
Talk

1
8,183pages on
this wiki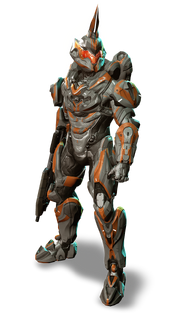 The MJOLNIR Powered Assault Armor/FOTUS is a variant of MJOLNIR [GEN2] utilized by the SPARTAN-IV's. It is manufactured by 343 Industries and was tested in Kirkland, Washington, URNA and received high movement proficiency ratings for coffee runs on rainy days.[1]
The entire in-game armor description is a metafictional joke.
"FOTUS" is the acronym of "Fist Of The UnicornS", named for a musical band comprised of crewmen on the UNSC Pillar of Autumn back in 2552.
The armor can only be obtained by purchasing the Halo 4 Limited Edition Xbox 360 console bundle. The bundle also includes an exclusive Xbox 360 avatar costume version of the armor.[2]
The armor's default color scheme matches that of the Halo 4 Limited Edition console.
The helmet, if examined, closely resembles a Promethean Knight helmet, but with a unicorn horn and a visor in place of eyes.
The armor has a striking resemblance to the Unicorn Gundam in Mobile Suit Gundam Unicorn.
Some players refer to it as 'Unicorn Armor' because of the helmet's "horn".
In some cases, the helmet closely resembles a helmet variant for CAST characters in Phantasy Star Online.
This armor could possibly be canon due to the DLC description, which reads "Leveraging classified Forerunner technology acquired from Requiem, this kit was developed for highly experienced S-IV personnel by the Office of Naval Intelligence." This would mean its inspiration could have been the Prometheans and why the armor resembles it so much.
Its description is a reference to Washington State having the most rain fall in the United States and Washington is also known for its coffee (in particular Starbucks).
List of appearances
Edit
References
Edit