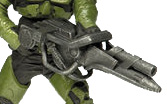 The M301 40mm Grenade Launcher was a UNSC weapon designed to fire explosive grenades.
Hellbringers are equipped with the M301 to launch flashbang grenades in order to stun and surprise enemy troops.[2]
The M301 can also be attached under the barrel of the MA5B and MA5C assault rifles, replacing the standard flashlight attachment.[1]
Appearances
Edit
Ad blocker interference detected!
Wikia is a free-to-use site that makes money from advertising. We have a modified experience for viewers using ad blockers

Wikia is not accessible if you've made further modifications. Remove the custom ad blocker rule(s) and the page will load as expected.