Loadout (Halo: Reach)
Talk

18
8,218pages on
this wiki
Redirected from Loadout
Were you looking for the Halo 4 variant of this concept?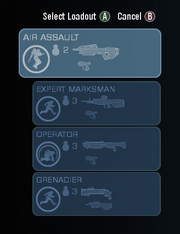 Loadouts are classes that a player picks at both the beginning of a multiplayer match and during respawn in Halo: Reach.
When a game begins, the player is given the option of choosing a particular loadout. Loadouts are gametype specific and vary between playlists, meaning players cannot create their own custom loadout to bring to Matchmaking. They can, however, create custom loadouts for Custom Games and user-created Firefight modes. Each loadout has particular weapon, grenade, and Armor Abilities combinations.[1][2]
Known Loadouts
Edit
Additional Names
Edit
Loadouts in Halo: Reach are fully customizable in Custom Games and local Firefight matches. Along with Armor Ability, grenade type, main weapon, and secondary weapon, players can also choose a name for their loadout, but cannot create a custom name. In addition to the names of existing loadouts, many additional name options are provided. These include:
Deceiver
Warden
Saboteur
Spec Ops
Sharpshooter
Demolitions
Infiltrator
Security
Sprint
Evade
Armor Lock
Active Camo
Hologram
Drop Shield
Jet Pack
Noble 1-6
Danny
Jerry
Jimmy
Bobby
Marlo
Omar
Berserker
Maverick
Zombie
Angel
Redshirt
Pookie
FNG
NOOB
Camper
Bunker
Claymore
Firebase
Intel
Ninja
Power
Cobra
Eagle
Hog
Bear
The 7 wood is available as a weapon for custom loadouts.
The Loadout title "Redshirt" is a term used for characters who are killed soon after being introduced. The term originated from the television series "Star Trek".
Among the list of titles are the names of known SPARTAN-IIs and SPARTAN-IIIs. However, there is also a number of other names. It is unknown if these names are those of other SPARTANs.