List of UNSC Military Units
Talk

23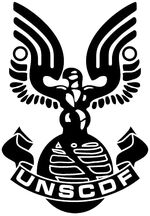 This is a comprehensive list of all known UNSC Military Units, individual military units of the United Nations Space Command and United Nations Space Command Defense Force and their respective suborganizations. For further information on how UNSC Military units are organized, see UNSC Military Organization.
Combatant Fleet
Non-Combatant Fleet
UNSC Marine Corps
Armored
Aircraft Units
Infantry
Orbital Drop Shock Troopers
46th Shock Troops Division
Small Units
Companies
Platoons
Squads
Fire Teams
Fireteam Hacksaw
Fireteam Icepick
Fireteam War Bird
Unknown Strength
Possible Joint Units
UNSC Army
Ground
7 Delta
4 Charlie
7 Charlie
Air
SPARTAN-IV
Fireteams
Trivia
Currently, there have been no mention of Air Force units.
Sources
See also