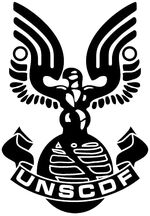 This is a comprehensive list of all known UNSC Military Units, individual military units of the United Nations Space Command and United Nations Space Command Defense Force and their respective suborganizations. For further information on how UNSC Military units are organized, see UNSC Military Organization.
Combatant Fleet
Edit
Non-Combatant Fleet
Edit
UNSC Marine Corps
Edit
Aircraft Units
Edit
Orbital Drop Shock Troopers
Edit
46th Shock Troops Division
Small Units
Edit
Companies
Edit
Fire Teams
Edit
Fireteam Hacksaw
Fireteam Icepick
Fireteam War Bird
Unknown Strength
Edit
Possible Joint Units
Edit
UNSC Army
Edit
7 Delta
4 Charlie
7 Charlie
SPARTAN-IV
Edit
Fireteams
Edit
Currently, there have been no mention of Air Force units.
Ad blocker interference detected!
Wikia is a free-to-use site that makes money from advertising. We have a modified experience for viewers using ad blockers

Wikia is not accessible if you've made further modifications. Remove the custom ad blocker rule(s) and the page will load as expected.