Ad blocker interference detected!
Wikia is a free-to-use site that makes money from advertising. We have a modified experience for viewers using ad blockers

Wikia is not accessible if you've made further modifications. Remove the custom ad blocker rule(s) and the page will load as expected.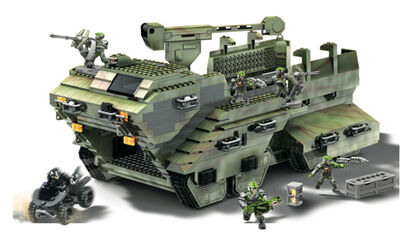 Mega Bloks (2nd largest building block manufacturer) has created two series of Halo toys. Here is a catalog of every set.
Arctic Wolverine
UNSC Falcon with Landing Pad
UNSC Rockethog vs Covenant Anti-Aircraft Gun
Combat Unit II
Combat Unit III
UNSC Spartan-II (Red)
UNSC Spartan-II (Limited Edition)
UNSC Spartan-II (Yellow)
UNSC Spartan-II (Blue)
UNSC Flame Marine
Halo Series 1 Hero Pack
Halo Collector's Case
Covenant Combat Unit
UNSC Troop Transport
UNSC Hornet Attack
UNSC Active camouflage Spartan
Halo Series 2 Hero Pack
Covenant Weapons Pack
UNSC Red Weapons Pack
Arctic Combat Unit
Battle Unit II
EVA Spartan
Green Spartan - Red Team
UNSC Flame Marine
Halo Collector's Case II
Crimson Combat Elite
UNSC Silver CQB
UNSC Silver Combat Unit
Covenant Assault Unit
ODST (new)
ODST Heavy Weapons Specialist
ODST Close Quarters Specialist
ODST Sniper
ODST Covenant Invasion
Covenant Drop Pod - Combat Elite
ODST Ambush
EVA's Last Stand
Covenant Weapons Pack II
UNSC Weapons Pack II
Red Covenant Combat Unit
UNSC Red Combat Unit
Halo Battlescape
Blue Team Weapon Pack
Red Team Weapon Pack
Blue Team Combat Unit
Red Combat Unit
Anniversary Edition UNSC Troop Pack
Versus: Covenant Locust Attack
Halo Anniversary Edition Floodgate
Halo Anniversary Edition UNSC Warthog
Versus: Assault on High Ground
Halo Series 4 Hero Pack
Covenant Shade Turret
UNSC Spade vs Skirmisher
Covenant Revenant Attack
Covenant Armory Pack
UNSC Armory Pack
UNSC Desert Combat Unit
Crimson Covenant Combat Unit
Halo Battlescape II
Flood Pod: Elite Combat Form
Covenant Drop Pod: Elite Ultra
Covenant Drop Pod: Elite Zealot
Halo Universe
Edit
Battle Pack I
Battle Pack II
Battle Pack III