List of Achievements for Halo: Combat Evolved Anniversary
Talk

0
Share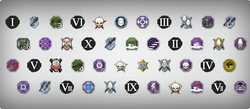 The following achievements were confirmed in the 10/14/11 Halo News Update.[1] A picture showing all of them was also released with all the names of achievements. There are a total of 44 achievements totaling 1,000 gamerscore in Halo: Combat Evolved Anniversary:  17 Campaign, 20 Level-Specific, and 7 New Feature Completion achievements.
Ad blocker interference detected!
Wikia is a free-to-use site that makes money from advertising. We have a modified experience for viewers using ad blockers

Wikia is not accessible if you've made further modifications. Remove the custom ad blocker rule(s) and the page will load as expected.