This article is a stub and does not have enough relevant information. You can help by expanding it.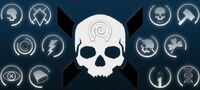 Legendary All Skulls On (LASO), also known as Mythic, is a fan-created difficulty that requires setting the difficulty to Legendary and activating all skulls.[1] Solo LASO (SLASO) is LASO with only one player. The Iron skull forces the player to complete the mission with zero deaths or saves. LASO is possible in all post-Halo: Combat Evolved Halo FPS games.
Ad blocker interference detected!
Wikia is a free-to-use site that makes money from advertising. We have a modified experience for viewers using ad blockers

Wikia is not accessible if you've made further modifications. Remove the custom ad blocker rule(s) and the page will load as expected.