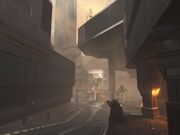 "Trooper, head through the doors to Kizingo Boulevard, fastest way to the rally point!"

— Anonymous Marine.
Kizingo Boulevard was a street located in Kizingo, on the main island of New Mombasa, Kenya, Earth.
During the Battle of Mombasa, Michael Crespo led a group of UNSC Marines along the Covenant-occupied boulevard to a rally point at the entrance to the ONI Alpha Site.[1]
Ad blocker interference detected!
Wikia is a free-to-use site that makes money from advertising. We have a modified experience for viewers using ad blockers

Wikia is not accessible if you've made further modifications. Remove the custom ad blocker rule(s) and the page will load as expected.