Ad blocker interference detected!
Wikia is a free-to-use site that makes money from advertising. We have a modified experience for viewers using ad blockers

Wikia is not accessible if you've made further modifications. Remove the custom ad blocker rule(s) and the page will load as expected.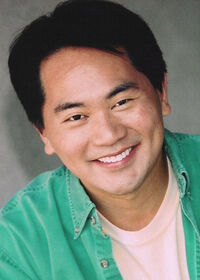 Keisuke Hoashi was born on 14 September 1967. He is a graduate of Stuyvesant High School in NYC. Keisuke holds an MS in Technical Communications from RPI (Rensselaer Polytechnic Institute) and two degrees in Music and Writing from SUNY Potsdam. He was able to put his education to good use creating the world's first Martial Arts Musical Comedy, Memoirs of a Ninja
A regular fixture in American commercials (He's the guy who is in "ING (Shakespeare in the Park)", "KFC Flavor Station (I'm in Charge)", and "Southwest Airlines".
In the Halo 2 promotional game I Love Bees he played the corruptible, Aiden Maki (Listen to Keisuke Hoashi voice as Aiden)