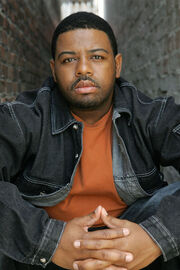 Standing at 5' 10" (1.78 m) Keeshan Giles (pronounced "Key-Shawn Guy-els") got his Bachelor of Fine Arts degree in acting from the City College of New York.
His mother got the name "Keeshan" from actor Bob Keeshan (a.k.a. Captain Kangaroo). The name is actually a modern version of the name Krishna; a god from Hindu mythology.
He worked on the Halo 2 promotional game, I Love Bees. On ILB, he played Trevor, and one of the thugs that worked for Thin Kinkle, Mick. You can listen to him playing Mick in this Axon.
Ad blocker interference detected!
Wikia is a free-to-use site that makes money from advertising. We have a modified experience for viewers using ad blockers

Wikia is not accessible if you've made further modifications. Remove the custom ad blocker rule(s) and the page will load as expected.