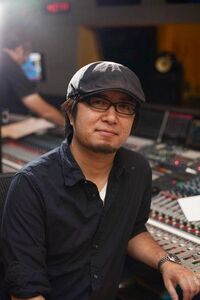 Kazuma Jinnouchi is a music composer and supervisor at 343 Industries.[1]
Background
Edit
Kazuma Jinnouchi had worked in Japan with Konami and Kojima Productions on Metal Gear Solid 4: Guns of the Patriots and Metal Gear Solid: Peace Walker.[2] He moved to the United States in July 2011 and began working with 343 Industries on Halo 4, along with composer Neil Davidge.[3] He composed several songs for Halo 4 but only one of his tracks was featured in Volume 1 of the Halo 4: Original Soundtrack, but nine were then present in Volume 2 of it. He also composed the music featured in the Halo 5: Guardians E3 2013 Teaser Trailer[4] and he also composed the full soundtrack of the game.[5]
Ad blocker interference detected!
Wikia is a free-to-use site that makes money from advertising. We have a modified experience for viewers using ad blockers

Wikia is not accessible if you've made further modifications. Remove the custom ad blocker rule(s) and the page will load as expected.