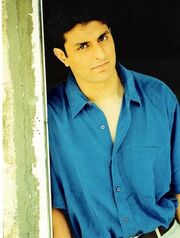 Kabir Kamboh was born on 10 February 1979 in Baltimore, Maryland, USA. Standing 5' 10" (1.78 m) his full name is Kabir Singh Kamboh but people call him Kabs, Kabrewski.
Kabs played Hiroyuki in the Halo 2 promotional game I Love Bees. You can listen to him playing Hiro in this Axon Clip.
He is an accomplished Bhangra Dancer/Instructor. He has been dancing Bhangra for the past 18 years as well as teaching for the past 12 years.
Kabir is also a stand-up comedian who will be performing at various venues in Los Angeles and throughout the country.
External links
Edit