Jun-A266
Talk

155
8,183pages on
this wiki
Jun-A266
Biographical information

SPARTAN tag

A266

Homeworld

Birth date

February 28th, 2524 (age 28)

Physical information

Gender

Male

Height

210.5 centimetres (6 ft 10.9 in)

Mass

111.1 kilograms (245 lb)

Hair color

Bald (presumed black)

Eye color

Blue

Affiliation and military information

Affiliation

Rank

Specialty

Sniper

Battles

Class

Alpha Company[note 1]

[Source] – [Talk]
"In recognition of this, his tireless diligence, we honor him as the vigilant eye of Noble. "
Jun-A266 (pronounced "June") is a SPARTAN-III commando of the UNSC Naval Special Warfare Command, attached to Special Warfare Group Three. He fought as a part of Noble Team. His call sign was Noble Three, during the Fall of Reach in 2552.
Biography
Edit
Jun was born in the year 2524 in Tyumen, New Harmony.  Originally conscripted as a part of Alpha Company, he served with Noble Team as Noble Three during the Fall of Reach in 2552. Jun is Noble Team's sniper[1] and recon specialist, pointing out targets for the rest of Noble to hit and providing overwatch from a Falcon.
Current status
Edit
He was last seen boarding a Pelican to escort Dr. Halsey away from Sword Base to CASTLE Base under orders from Carter-A259. When Team Alpha made their way to CASTLE base the next day to regroup with Team Delta, they coincidentally found Catherine Halsey when they tried to gain access to the base in front of a metal reinforced door. They were able to gain access by whispering their Spartan-II call sign, "Olly Olly Oxen Free", into a microphone near the door. Only to have it opened by Catherine Halsey, who seemed to be the only person in the facility. Jun was nowhere to be found upon their discovery of Halsey in CASTLE Base.[2]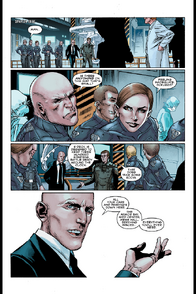 By January of 2553, Jun hand-picked Sarah Palmer, who at the time was an ODST, to become one of the first candidates for the SPARTAN-IV Program.[3][4]
Jun, along with Musa-096 began to train Palmer and the new Spartans they recruited. They taught the new recruits how to operate as a team and to never seize glory for one's self when your teammates are on the line. Sometime after, Jun and Lasky gave them a tour of the UNSC Infinity to show them where they would be stationed soon enough. While he was giving the new Spartan recruits a tour of the Infinity, an Insurrectionist team lead by Ilsa Zane, took Captain Del Rio and the Infinity's bridge crew captive and threatened to depressurize the whole ship if anyone was to try and retake it. Palmer asks Lasky if the armor bay is operational. Lasky replies saying it is but the selection was limited. Jun then tells Palmer that they aren't cleared to receive their armor yet. Though the situation demanded it, she then tells Jun that they are Spartans and they need to start acting like it.[5]
After his Spartans got suited up, Jun tells Palmer and the Spartans that Ilsa Zane was one of the original Spartan IV's. He tells them how the originals were able to achieve all of the same physical feats as a Spartan in MJOLNIR armor, with out actually wearing any armor. Palmer and the other Spartans were unphased by the information given to them, and still proceeded with retaking the bridge. Ilsa Zane found out about the Spartan retaliation force and had the Spartan Deck depressurized. Palmer and Davis caught Jun and Lasky before they were thrust out into space. The Spartans then placed fire containment oxygen masks on Jun and Lasky and continued on with their objective. 

While Palmer and Davis are climbing the Infinity's outer hull to the Bridge, Jun, Lasky, and the other 3 Spartans were engaged by a strike team sent by Ilsa Zane to eliminate the group of Spartans. Jun and two of his Spartan 4's were holding off the team of Insurrectionists, while one Spartan 4 saved Lasky from being hit by a bullet. Lasky then asks the Spartan why Jun isn't being rescued, only to have the spartan reply by saying,"Jun knows what he's doing". Lasky then seals the hallway doors, neutralizing the Innie threat. After the threat was neutralized, they then proceeded to the Bridge, only to find that Palmer and Davis successfully secured the bridge and had neutralized the Ilsa Zane and the Insurrectionist threat.[6]
Personality and traits
Edit
"I kill the enemy, but do not hate them."

—When previewing his voice in the Armory
He is regarded as "rock solid under pressure" and has shown symptoms of post-traumatic stress in the past. He is a thoughtful and taciturn soldier, but he is also noted as being "chatty", sometimes to the degree his chattiness is considered being against noise discipline protocols. This is, however, often overlooked by his peers in the field due to the informational bent of his chatter. In a psychiatric evaluation on 15/12/2549, he was noted as having "an unhealthy emotional detachment in regards to the consequences of his actions". Colonel Urban Holland, who later evaluated the members of Noble Team, disagreed with this assertion, commenting that Jun is a rationalist, and also a SPARTAN.[7]
Equipment
Edit
Jun wears a Scout helmet, with an HU/RS upgrade to the helmet, a Tactical/Patrol chest piece. He uses the Sniper shoulders with his combat knife on his right shoulder and spare sniper rifle rounds are on his left shoulder, and Tactical UGPS for his left forearm. His leg attachments consist of a Tactical/Soft Case on his left thigh and FJ/PARA knee guards. His weapon of choice is the Sniper Rifle System 99 Anti-Matériel.
Jun was voiced by Sunil Malhotra.[8]
Jun is the first SPARTAN to be shown with his helmet off in gameplay.
Jun's possible namesake, Arjuna, is the greatest marksman in Hindu mythology. He was the son of the King of Gods, Indra. Arjuna, whose name means 'bright', 'shining', 'white' or 'silver', was such a peerless archer that he is often referred to as Vishnu –the unbeatable.
Jun shares his homeworld with Catherine-B320, this could explain why the two have Slavic accents.
Jun has a tattoo of a hand grasping three arrows next to his left ear. The tattoo has several marked similarities with the symbol for the SPARTAN-II Program. However, if examined closely it can be noted that the emblem is in fact the Bungie Coat of Arms.
Jun's helmet is available as an avatar award and is obtained by killing 100 enemies in a row without dying in either campaign or firefight.
Jun is the last surviving member of Noble Team and one of the last in Alpha Company.
Early concept art of Jun shows him wearing an early concept of the GUNGNIR helmet.
Jun and Carter are the only two Spartans on Noble Team to never use their combat knives during cutscenes.
The player would need to be a Brigadier to replicate him, and even then, his shoulder with the combat knife cannot be bought. Only the spare sniper rifle rounds will be added, despite a cost difference between the shoulders. Jun also has a backpack that can't be replicated. Carter shares the same backpack, albeit it is worn with the Assault/Commando chestpiece, not the Tactical/Patrol which Jun wears. To somewhat recreate Jun-A266's concept art armor, they would need Scout helmet, Sniper left shoulder, MJOLNIR Mark V. right shoulder, Tactical/Patrol chest piece, Tactical/Soft Case utility, Tactical/UGPS wrist armor, FJ/Para knee guards, Gold visor, and Sage as Primary and Secondary colors.
Jun has a reddish visor on his helmet, this is also the case with Jorge-052.
Jun's name is similar to the pinyin spelling for the Chinese word jǖn, which means "soldier".
Jun is the only SPARTAN on Noble team to have their face shown and not possess any facial scars; this may be due to his role as the team's sniper.
In the comic Halo: Initiation, which takes place in the year 2553, Jun-A266 is seen recruiting Sarah Palmer to be in the SPARTAN-IV Program. In the comic, he is visually portrayed as wearing a Tuxedo. He is also seen wearing his tuxedo while training his new recruits with Musa-096.
List of appearances
Edit
↑ Alpha Company started in 2531, Beta Company started in 2537, and Gamma Company started in the mid-2540s. The targeted age group for SPARTAN-III initiation is around six.