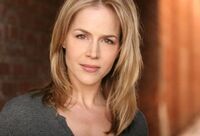 Julie Benz (born May 1, 1972 in Pittsburgh, Pennsylvania) is an American actress. She voices Commander Miranda Keyes in Halo 2.
A former figure skater, Benz is best known for playing the vampire Darla in the Buffy the Vampire Slayer TV series, where Darla is the first character seen on-screen, and later in the Angel spinoff series. She has starred in such films as Jawbreaker. She can also be seen by Showtime viewers, as a character in the crime drama Dexter.
Julie was replaced by Justis Bolding in Halo 3 because Bungie wanted someone with an accent to play Miranda Keyes.[1]
↑ Dexter's No. 1 Gal — Julie Benz — Previews a Killer Finale Friday, December 15, 2006
TVGuide.com: Are you all done with your voice work for the Halo 3 video game?

Julie Benz: You know what? I am actually not a part of Halo 3. I was informed a couple of weeks ago that they are actually changing the voice of Captain Miranda Keyes, and giving her an accent.
Ad blocker interference detected!
Wikia is a free-to-use site that makes money from advertising. We have a modified experience for viewers using ad blockers

Wikia is not accessible if you've made further modifications. Remove the custom ad blocker rule(s) and the page will load as expected.