Juan Ramirez is a 3D artist who worked on both Halo games and did some art work for Halo Graphic Novel. He also did some sculpture designs of the early Elite.[1]
In the Halo Graphic Novel he did the gallery page 117, that shows UNSC Marines being attacked by a Brute and a Grunt.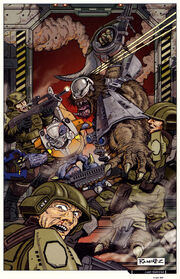 Full Credits
Edit
Stubbs the Zombie in Rebel Without a Pulse (2005), Aspyr Media, Inc.
Halo 2 (2004), Microsoft Game Studios
Halo: Combat Evolved (2001), Microsoft Game Studios
Myth II: Soulblighter (1998), Bungie Studios
Myth: The Fallen Lords (1997), Bungie Studios
External links
Edit
Ad blocker interference detected!
Wikia is a free-to-use site that makes money from advertising. We have a modified experience for viewers using ad blockers

Wikia is not accessible if you've made further modifications. Remove the custom ad blocker rule(s) and the page will load as expected.