Ad blocker interference detected!
Wikia is a free-to-use site that makes money from advertising. We have a modified experience for viewers using ad blockers

Wikia is not accessible if you've made further modifications. Remove the custom ad blocker rule(s) and the page will load as expected.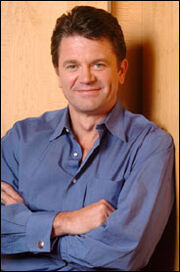 John Michael Higgins
(born February 12, 1963, in
Boston, Massachusetts
) is an American actor whose film credits include many of
Christopher Guest's
mockumentaries
and the role of
David Letterman
in HBO's
The Late Shift
.
Recently, Higgins has gained more recognition by being featured in trailers and television commercials for Fun with Dick and Jane and The Break-Up. His work as a voice actor includes the role of Judge Mentok in Harvey Birdman, Attorney at Law.
In the Halo series he is the voice actor of 2401 Penitent Tangent a fictional character featured in the video game Halo 2.
He has one son Walter born on 29 August 2006
Favorite piece of music is Elgar - Cello Concerto No. 1.
External links
Edit