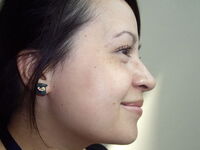 Jessica Shea, also known by her internet alias bs angel, was a Community Manager for 343 Industries and part of the Halo Waypoint team.[1] She also wrote 343 Industries' weekly Halo Bulletin.[2] She is now a producer for the Microsoft HoloLens.[1]
Before joining 343 Industries, she was known for being the writer of the primarily Halo-themed video game blog Hawty McBloggy.
Ad blocker interference detected!
Wikia is a free-to-use site that makes money from advertising. We have a modified experience for viewers using ad blockers

Wikia is not accessible if you've made further modifications. Remove the custom ad blocker rule(s) and the page will load as expected.