Ad blocker interference detected!
Wikia is a free-to-use site that makes money from advertising. We have a modified experience for viewers using ad blockers

Wikia is not accessible if you've made further modifications. Remove the custom ad blocker rule(s) and the page will load as expected.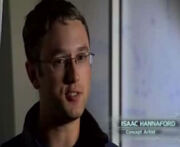 Isaac Hannaford aka Rhizus is a lead concept artist currently at Bungie. He has worked on some of the cover illustrations of the Halo novels, including those of Halo: Ghosts of Onyx, Halo: Contact Harvest and Halo: The Cole Protocol. He also drew the "Brute meets Marine" picture in the Halo Graphic Novel on page 107.
Gameography
Edit
Destiny (2014), Bungie
Halo: Reach (2010), Bungie
Halo 3: ODST (2009), Bungie
Team Fortress 2 (2007), Valve
Halo 3 (2007), Bungie
Red Faction Guerilla (2009), Volition THQ, Inc
Saints Row (2006), Volition THQ, Inc
The Punisher (2005), Volition THQ, Inc
External links
Edit