I love bees
Talk

37
8,780pages on
this wiki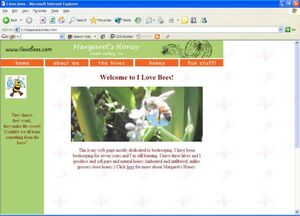 i love bees, or ILB for short, was an Alternate reality game developed by 4orty2wo Entertainment as a marketing campaign for Halo 2 during the summer of 2004. The ARG utilised the website ilovebees.com as the hub for the marketing campaign. Ostensibly a beekeeper's personal site, the server appeared to have been taken over by an unknown entity whose thoughts are scattered on the site.
Background
Edit
The site was first discovered by fans of the Halo series on July 23, 2004, within a subliminal message in the Halo 2 theatrical trailer.[1][2] The message would lead viewers to a beekeeper's website that appeared to be hacked at first glance. The frontpage shows a floating counter counting down to specific time, all of which relates to the Alternate reality game. The first countdown ended on July 27, accompanied with the following message, "network throttling will erode". The subsequent countdowns displays "this medium will metastasize" on August 10, and "wide-awake and physical" on August 24. Currently, the countdown is counting down to the day the Covenant will attack Earth.[note 1]
A message on the frontpage would direct the viewers to a blog of the beekeeper's niece, Dana, who seeks technical help to restore the site to its original state.[note 2]
The game begins with the participating viewers to locate all of the payphones (or axons as referred by Dana) across the United States. Participants who answered the axons at each countdown would be given a recording of an AI and be asked basic questions about the character. If answered correctly, an audio clip would be released and a number would be added to the counter of the website. The audio clips, when threaded together, formed an audio drama about the characters in the Halo Universe. When the number reached 777, the AI, as played by a voice actor instead of a recording, would begin to interact with the players through the payphones. The AI would question the participants on general subjects such as name and jokes.
After the game was over, the participants were given access to play Halo 2 multiplayer mode before its release at various sites across America. Access to these sites would be granted provided that the participants say "The Operator left a message for me", though not all hosts of these sites were aware of the marketing campaign. At each event, participants were given DVDs of the marketing campaign, containing all of the audio files, as well as deleted materials.
Soon after ILB became popular, someone bought the domain name www.ilovepees.com and auctioned it on eBay. The person that claimed it made it a redirect to their own site because they knew they would get tons of traffic from ILB fans who would type in the address incorrectly.[3] The site was finally sold for a price close to $40.
A player tried to answer a live call in the middle of Hurricane Ivan. The Puppet Master (Puppetmaster 2) broke character to tell him to run to safety: "Dude, it's a hurricane. Put the phone down."[4]
It has been said that after all of the Halo 2 commotion settled down, the ILB website was abandoned and taken over by an unstable AI, causing the website to go haywire.
The site says that the beekeeper has been beekeeping for seven years.
If you look at the ILB website the countdown ends at the year 2552, when Earth was attacked by the Covenant.
The subheading on Dana's blog references a novella by Franz Kafka, called The Metamorphosis
Now when you go on the ilovebees website it redirects you to a website called 42 Entertainment. the page has a video clip about ilovebees
↑

Dana acted as the narrator of the Alternate reality game, describing events for those who was unable to participate in the game
Related pages
Edit