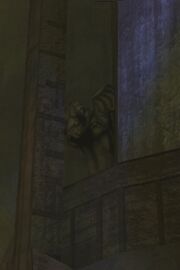 The Hidden Gargoyle is an easter egg in Halo 2 that can be found in the multiplayer map, Backwash. To find the hidden gargoyle, head over to the Blue Base and look towards the Forerunner structure. The figure is located on the left side of the roof, slightly above the balcony of the structure.
Ad blocker interference detected!
Wikia is a free-to-use site that makes money from advertising. We have a modified experience for viewers using ad blockers

Wikia is not accessible if you've made further modifications. Remove the custom ad blocker rule(s) and the page will load as expected.