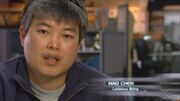 Hao Chen is a Chinese-American video game programmer and engineer for Bungie.
Biography
Edit
Born in 1973 in China, Chen moved to America in 1994 to attend school. After years of waiting tables, he started by career making computer based training and simulation products for the military. When he got bored with that, he joined Singletrac, the hottest PlayStation development house at the time, where he did three years of hard core AI and wrote a PC graphics engine. Chen Joined Microsoft to work on Xbox games, wrote the engines for AMPED1 and AMPED2. He joined Bungie Studios in February 2004.
He still works at Bungie, and he was credited for some minor assistance in the development of Halo 2 as an engineer. He also has a daughter, who was born in 2003.
Ad blocker interference detected!
Wikia is a free-to-use site that makes money from advertising. We have a modified experience for viewers using ad blockers

Wikia is not accessible if you've made further modifications. Remove the custom ad blocker rule(s) and the page will load as expected.