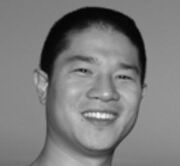 Hamilton Chu (Nickname: Hambone) is a former employee of Bungie Studios. He is a producer and writer. He has also served the role of voice actor, when necessary.
He is credited as a writer in the Oni storyline, and was the lead producer for Halo: Combat Evolved and Halo PC. He also served as a producer for Halo 2 and worked as a producer for Halo 3. He was casted as "Additional Voices" in the cast of the Oni game.
He left Bungie in October 2006, along with Michael Evans, and is now an employee of Blizzard Entertainment.
Ad blocker interference detected!
Wikia is a free-to-use site that makes money from advertising. We have a modified experience for viewers using ad blockers

Wikia is not accessible if you've made further modifications. Remove the custom ad blocker rule(s) and the page will load as expected.