Ad blocker interference detected!
Wikia is a free-to-use site that makes money from advertising. We have a modified experience for viewers using ad blockers

Wikia is not accessible if you've made further modifications. Remove the custom ad blocker rule(s) and the page will load as expected.
| | |
| --- | --- |
| | This article may not meet Halo Nation's standards. You can help by cleaning this article. |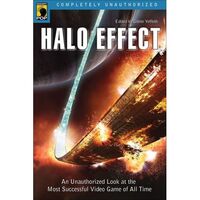 Halo Effect: An Unauthorized Look at the Most Successful Video Game of All Time is a 224-page book about the Halo franchise, released in April 2007 and published by "Benbella Books".[1] It is a collection of 13 essays and can be described as viewing the Halo phenomenon from every angle. It gives behind-the-scenes looks at Halo machinimas, how interest in Halo grew during its construction, scientific essays explaining how the laws of physics work on Halo, the making of Halo: Combat Evolved and Halo 2, and much more.
"You Are John-117", by Matthew Woodring Stover
"Planetary Objects in the Rear View Mirror", by Kieron Gillen
"Have Gun, Will Travel", by Paul Kix
"Halo Science 101", by Kevin R. Grazier, Ph.D.
"Lights, Camera, Play!", by Glenna Whitley
"Broken Halos", by Charlie W. Starr
"The Modern Mythos", by Jill MacKay
"Is Halo Doom-ed", by Janine Hiddlestone
"Gun on a Bun", by David Thomas
"The Making of Halo and Halo 2", by Dean Takahashi
"Warlords", by Peter A. Smith and Alicia Sanchez
"Run Awaaaaay!", by Nick Mamatas
"Halo and the High Art of Games", by Vox Day