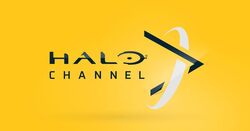 The Halo Channel is a video streaming service on Xbox One, that allows players access to Halo news and content directly from 343 Industries, and their partners.[1] Several pieces of Halo media were launched as exclusives to the Halo Channel, such as Halo: Nightfall and Halo: The Fall of Reach Animated Series,[2][3] although some, like Halo: Nightfall, were later re-released on Blu-ray and DVD.[4] Any installment in the Halo franchise on the Xbox One can be booted from the Halo Channel, provided the player owns the game.
News and Information
Edit
ViDocs and Documentaries
Edit
Halo MediaEdit
Cinematics
Edit
Terminals
Edit
Community Creations
Edit
Non-canon Media
Edit
Ad blocker interference detected!
Wikia is a free-to-use site that makes money from advertising. We have a modified experience for viewers using ad blockers

Wikia is not accessible if you've made further modifications. Remove the custom ad blocker rule(s) and the page will load as expected.