This article is about upcoming material. Editors must cite sources for all contributions to this article. Edits that do not follow this standard will be reverted without notice.

Halo 5: Guardians

Developer(s)

Publisher

US date released

October 27, 2015

EU date released

October 27, 2015

Genre

Game modes

ESRB rating

Rating Pending (RP)

Platform(s)

Designer(s)

TBA

Writer(s)

Brian Reed

Composer(s)

Media

TBA

Website
Halo 5: Guardians is an upcoming Halo game announced during Microsoft's E3 2013 presentation as the second chapter in the John-117 storyline of the Reclaimer Saga and the sequel to Halo 4. It is scheduled to be released on October 27, 2015.[3]
Characters and Setting
Edit
Jameson Locke will be a playable character in Halo 5: Guardians.[4]
Spartan Abilities
Edit
Armor Abilities will not be present in Halo 5: Guardians.[16] The "new Spartan abilities" mentioned in the Halo 5: Guardians multiplayer beta announcement trailer are not Armor Abilities.[17] Each ability can be used by all. They are:
Multiplayer
Edit
Spectator mode will be allowed within multiplayer matches.[19]
Multiplayer Maps
Edit
Gametypes
Edit
Legendary Weapons
Edit
Marketing
Edit
Xbox One Reveal
Edit
Halo (Xbox One) was confirmed to be in development for the Xbox One during the Xbox One Reveal event on May 21, 2013.[1]
"There was no ambiguity in not putting a number after the game. For me, what we showed wasn't the game. Nobody should be confused on that. I didn't really want to try to show something that was clearly a thought piece by the studio around where Master Chief is in his journey, and then drop the name after it and be somewhat disingenuous about that being the game. But I did want Bonnie [Ross] to come out and say 'First-person shooter. Master Chief.' Because they'll get the questions: 'Hey, is this ODST? What are you guys doing?' Bonnie [Ross] comes out and reaffirms that 343 is building this game. It's Master Chief. It's a first-person shooter at 60 frames per second. It's coming in 2014."

— Phil Spencer, regarding the teaser trailer

[44]
Xbox Wire
Edit
On May 16, 2014, Bonnie Ross, General Manager of 343 Industries, announced on Xbox Wire that the Halo game will be named Halo 5: Guardians and will be released in Fall 2015.[45] Bonnie also announced that Halo 5: Guardians will run on a new and more powerful engine.
Hunt the Truth
Edit
Main article: Hunt the Truth
On March 19, 2015, Frank O'Connor tweeted a link to a Tumblr page called Hunt the Truth.[46] On the page, there was countdown that had ended on March 22, 2015 at 1:00am UTC and had an image of the word "Traitor" engraved onto a bullet.[47] The page revealed to be about a journalist and war photographer, Benjamin Giraud, who is trying to find the truth about the Master Chief.[47]
Limited Edition
Edit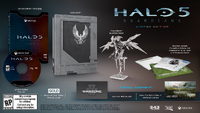 The Limited Edition includes:
Warzone REQ Bundle - 14 Premium Requisition packs
Halo: The Fall of Reach – Animated Series
Guardian model by Metal Earth®
Uniquely-designed Spartan themed SteelBook®
Spartan Locke's Classified Orders
Dossiers on Blue Team and Fireteam Osiris
Xbox Live Gold 14-day Trial[48]
Limited Collector's Edition
Edit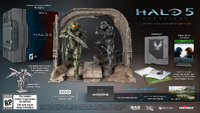 The Limited Collector's Edition includes all the previous items within the Limited Edition and it also comes with a commemorative statue designed by 343 Industries: A statue of John-117 and Spartan Jameson Locke. The statue is able to be split and separated from the middle separate.[49]
E3 2013 Trailer

E3 2014 Trailer

Concept Art

Campaign

Multiplayer

Misc.

Promotional Art

Campaign Preview

Beta Gameplay

Misc.
Main article: Halo 5: Guardians Teaser Trailer
E3 2014 Multiplayer Beta Announcement
Edit
Main article: Halo 5: Guardians Multiplayer Beta Trailer
Spartan Locke Armor Set
Edit
Main article: Halo 5: Guardians Spartan Locke Armor Set
Hunt the Truth
Edit
Main article: All Hail
Main article: The Cost