Halo 2 Vista
Talk

55
8,419pages on
this wiki
| | |
| --- | --- |
| | This article may not meet Halo Nation's standards. You can help by cleaning this article. |
Halo 2 Vista

Developer(s)

Publisher

Genre

Game modes

ESRB rating

Mature (M)

Platform(s)

PC - Windows Vista Exclusive (Works with Windows 7).

Media

DVD

Website

[Source]   [Talk]

Halo 2 Vista, is a ported PC version of Halo 2 by Hired Gun for use on the Windows Vista operating system exclusively and as a release title for the "Games for Windows" category. The release date was originally planned for May 8, 2007. However, the release date had been delayed to May 22, 2007 because the team needed "to make some improvements to the install experience and address other technical issues." However, release dates had been erratic, as Australia had publicly available copies, and some stores in the United States were selling copies as well. Microsoft had stated that the release date had been pushed back one final time, due to partial nudity found in the Halo 2 Vista Map Editing Kit, making the release date May 31 for the United States. Its multiplayer server list was going to be shut down in February 2013, but was extended to June 2013 while they discuss the feasibility of keeping the server list. However, it was extended again until early 2014.
Halo 2 Vista features reworked graphics for PC systems, including high-detail textures plus support for increased screen resolutions above the maximum of 720x480p in the Xbox version. Campaign mode is identical and now integrated with "Games for Windows - LIVE Achievements", which are also integrated into Multiplayer mode. Halo 2 Vista is the first title in the Halo series to feature Microsoft's Xbox 360/GFWL Achievement system.
A new addition exclusively for the PC version is the "Halo 2 Editing Kit", a map editor based on the original Halo Editing Kit. A pre-made "custom" map is included by default, named Example, created by the developers as a reference aid to assist users in the creation of their own custom maps.
Halo 2 Vista is the first and only game to feature Microsoft's "Tray & Play" technology. It is an attempt to emulate the ability of consoles to instantly play games from an optical disc drive. When the game is launched, data begins streaming from the disc while simultaneously being installed in the background during a once-off process.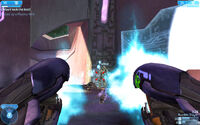 Multiplayer Additions
Edit
Halo 2, being a release title of Games for Windows, includes support for the Live for Windows system. It intertwines with the Xbox Live system, allowing communication with someone who has an Xbox. However, cross-platform play is not supported (this feature was planned). The interface is similar to that of the Xbox 360 dashboard. Instead of using peer to peer matchmaking, players will be able to create dedicated servers, which are created with a program that comes with the disc.
Gamertags, which are used on Xbox Live, are also used on Live for Windows. If a player were to have an Xbox Live gamertag, they would be able to log on using that. Otherwise, a free account can be registered for a player. Players can also match up in parties, and the party leader can specify maps and game types to play on the go.
Exclusive to Halo 2 Vista are 2 new maps, District and Uplift. However, Halo 2 Vista does not include the maps Desolation or Tombstone.
System Requirements
Edit
The minimum system requirements to run Halo 2 on Windows Vista is a Windows Experience Index of 3.0. The recommended system requirements is a WEI of 5.0. Users can play the game with a rating of less than 3.0 but they will have to reduce graphics quality in order to run the game smoothly. The game can be set on different levels of detail (low, medium, or high) to change performance and appearance. Anti-Aliasing and resolution can be changed, as well.
Reception
Edit
Halo 2 Vista was considerably less popular than the Xbox version of the game. Besides selling incredibly low due to the negative reception of Windows Vista, it also was far less highly rated than the Xbox version. The game netted a mere 72% from Metacritic, a site which regulates and moderates reviews from other websites.[1] Game Informer cited the outdated graphics and lack of innovation, which they said made the game feel "too outdated for a next-generation PC game, especially compared with how stunning Halo 2 had been on Xbox".
Halo 2 Vista was made to be even more unpopular, when it lacked basic features like online co-operative gameplay or other game modes, which were to be included in Halo 3 for Xbox 360. Halo 2 Vista's Dedicated Server had been severely stripped down of its important features which were part of Halo: Combat Evolved's Dedicated Server commands.