Ad blocker interference detected!
Wikia is a free-to-use site that makes money from advertising. We have a modified experience for viewers using ad blockers

Wikia is not accessible if you've made further modifications. Remove the custom ad blocker rule(s) and the page will load as expected.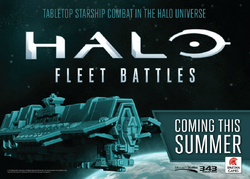 Halo: Fleet Battles is a tabletop wargame developed by Spartan Games and released in Summer 2015.[1] The game focuses on the events of Halo: Reach and Halo: The Fall of Reach. The game allows players to recreate pivotal space battles that took place in the Halo Universe using both UNSC and Covenant ships.[2]
The starter pack comes with 49 detailed plastic model ships with expansion packs that will include many more ships and installations on each side allowing players to recreate the Fall of Reach.[2]
Pre-orders of the game from Salute 2015 or on the Spartan Games online store came with resin busts of one of two Fleet Commanders: UNSC Vice Admiral Michael Stanforth or Covenant Supreme Commander Rho 'Barutamee.[2][3]
Characters and Setting
Edit
Main Sets
Edit
The Fall of Reach box
Edit
The Fall of Reach box contents include:
Expansion Sets
Edit
UNSC Core Battle Group Upgrade
Edit
The UNSC Core Battle Group Upgrade includes:
UNSC Commander Pack
Edit
The UNSC Commander Pack includes:
UNSC Large Battle Group Upgrade
Edit
The UNSC Large Battle Group Upgrade includes:
Covenant Core Battle Group Upgrade
Edit
The Covenant Core Battle Group Upgrade includes:
Covenant Commander Pack
Edit
The Covenant Commander Pack includes:
Covenant Large Battle Group Upgrade
Edit
The Covenant Large Battle Group Upgrade includes: