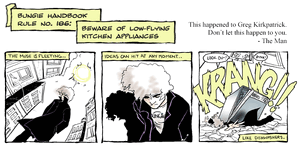 Gregory John Kirkpatrick is a former Bungie employee, who was a writer of the Marathon plot line. He left Bungie in February, 1996, to start Double Aught, another game company, with Chris Geisel. Double Aught produced Marathon Infinity, the third Marathon game. They then started work on a game called Duality, but unfortunately they ran out of money to fund the project.
Gregory is credited with the creation of the term Rampancy.
Ad blocker interference detected!
Wikia is a free-to-use site that makes money from advertising. We have a modified experience for viewers using ad blockers

Wikia is not accessible if you've made further modifications. Remove the custom ad blocker rule(s) and the page will load as expected.