| | |
| --- | --- |
| | This article may not meet Halo Nation's standards. You can help by cleaning this article. |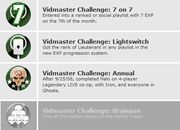 An Achievement is a reward given to players when they accomplish certain gaming feats decided by the developer in videogames published for Games for Windows Live, the Xbox 360, and Xbox One consoles. Since the launch of the Xbox 360, it has been a mandatory requirement by Microsoft that all videogames published on the console (including 360 versions of multiplatform games) feature Achievements.
Most Achievements also award the player Gamerpoints that count towards a gamer's total Gamerscore. These points, while not redeemable, are intended to serve as a tangible form of special rewards for unusual or skilled actions within gameplay.[1]
Halo 2 Vista AchievementsEdit
The PC version of Halo 2 was the first Halo game to contain Achievements. Since Halo 2 was released on the original Xbox, the Achievement system had not yet been invented. However, Achievements were added to the release of Halo 2 as a game for Windows Live.
Halo 3 AchievementsEdit
In Halo 3, there are currently 79 Achievements to unlock, worth a total of 1,750 Gamerscore. Halo 3 was originally released with 49 Achievements, worth the standard 1,000 Gamerscore, but an additional 30 Achievements were added for anyone who purchased the new downloadable content. Various achievements unlock armor permutations.
Halo Wars (Definitive Edition) AchievementsEdit
A total of 58 Achievements appear in Halo Wars, adding 1,200 Gamerscore points.[2] All of these Achievements are listed below.
A total of 75 Achievements appear in Halo Wars: Definitive Edition, adding 1500 Gamerscore.
Halo 3: ODST AchievementsEdit
All Achievements in Halo 3: ODST are listed below. The total amount of Achievements in Halo 3: ODST is 47, with a Gamerscore total of 1,000. Unlike the Achievements from Halo 3, the actions required by several Achievements in ODST must be completed on specific levels in order to count. For example, the I Like Fire Achievement can only be unlocked on the level Data Hive.
Halo WaypointEdit
It is worth noting that Halo Waypoint has no Achievements in and of itself. This is likely due to the fact that because Waypoint contains no original gameplay, any Achievements granted by it would just be rewarding players again for accomplishments they had already completed. Waypoint instead has Awards, achievable and viewable simply by accessing Waypoint after carrying out certain tasks in the various Halo games. These awards are Avatar items and can be equipped to your Xbox Live Avatar.
Halo: Reach AchievementsEdit
In Halo: Reach, there are a total of 69 Achievements, with a total Gamerscore of 1,700. It was confirmed in a weekly update on Bungie.net that completing Achievements in Halo: Reach will earn the player credits in the game.[3]
Also, the names of the campaign achievements in Halo: Reach are often in reference to quotes in previous Halo games.
Halo: Combat Evolved Anniversary AchievementsEdit
In Halo: Combat Evolved Anniversary, there are 44 Achievements in total, with 1,000 Gamerscore all together. 
Halo 4 AchievementsEdit
Halo 4 contains 86 Achievements, with a total of 2,000 Gamerscore. 
Halo: Spartan Assault AchievementsEdit
Halo: Spartan Assault contains a total of 30 (32 for Xbox One) achievements, with a total of 390 (980 for Xbox One) Gamerscore.
Halo: The Master Chief Collection AchievementsEdit
Halo: The Master Chief Collection contains a total of 600 achievements, with a total of 6,000 Gamerscore. Title Update 1 and 2 each added 50 achievements worth 500 Gamerscore, while the Halo 3: ODST DLC pack contained 99 achievements worth 990 Gamerscore. On the same day as the release of that DLC, Title Update 3 added the map Remnant with a single achievement worth 10 Gamerscore.
Halo Wars 2 AchievementsEdit
Halo Wars 2 contains a total of 57 Achievements worth a total of 1000 Gamerscore.
4. http://www.xbox360achievements.org/
Related Pages
Edit