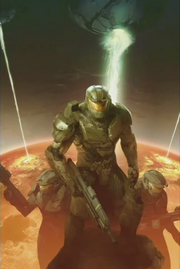 Gabriel Garza, aka Robogabo, is an artist working for 343 Industries. He illustrated the cover of Halo: Evolutions, and created artwork for two of the stories, Icon and Connectivity. He also created the cover art for the 2010 Tor Books edition of Halo: The Fall of Reach.[1]
Born in Mexico, he now lives in Seattle, Washington with his family. Having worked at a newspaper in the past, Garza has been a professional artist for the last ten years. His years at the newspaper also had a lasting impact on his artwork. Garza's passion for video games attracted him into the concept art community and led him to live and work across the United States working on video games.[2]
External links
Edit
Ad blocker interference detected!
Wikia is a free-to-use site that makes money from advertising. We have a modified experience for viewers using ad blockers

Wikia is not accessible if you've made further modifications. Remove the custom ad blocker rule(s) and the page will load as expected.