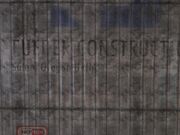 Fueder Construction was an Earth company located in Salem, Oregon in the United States, United Republic of North America.[1]
Background
Edit
Fueder was contracted to do work in Voi, Kenya at Traxus Factory Complex 09.[2] Many of their workers were killed in this complex during the Battle of Voi.
A few office buildings in New Mombasa can be seen with the Fueder logo on them.[3]
List of appearances
Edit