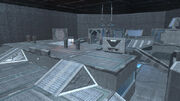 Forgetacular is a contest hosted by Bungie that utilizes Halo: Reach's Forge gametype.
Background
Edit
Bungie started Forgetacular on October 14 and ran until November 28. It had 7 categories for players to participate in, which is a possible 7 reference. The contest was announced through the use of a News Post at Bungie.net and its winners were posted in the same way.
Each category had only one winner that received the following Prizes
Halo: Reach Limited Edition Xbox 360 Console signed by the Bungie Team
Map considered for Matchmaking
Although all winners received their console, only 3 of the winning maps actually made it into the Matchmaking system. They are Enclosed (Arena winner), Abridged (Big Team Battle), and Treasury (Team Slayer).
Categories
Edit
The 7 categories that were open for submission were
Arena
Big Team Battle
Capture The Flag
Infection
Invasion
Race
Team Slayer
The winning map name and it's creator are
Enclosed-Kymicals (Arena)
Abridged-Schmittler 5000 (Big Team Battle)
Atonement-Psychosis687 (Capture The Flag)
Mansion-SWAS LightningZ (Infection)
Saucered-Ye5 (Invasion)
Cobra-Irritab1e B owl (Race)
Treasury-JoeSki73 (Team Slayer)