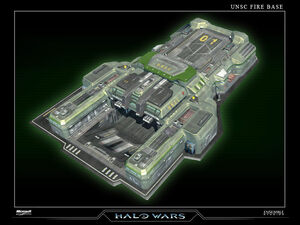 A Firebase is a UNSC base facility. It was originally created to house the required materials and equipment for early colonists, and was later modified for military purposes (as shown in Halo Wars).
Firebases contain self-destruct and lock sequences, allowing for the base to go into complete shutdown, or be destroyed in cases of attack. The Firebase is able to be built upon, allowing the incorporation reactors, and other facilities on site to supply power and other resources.
Related Pages
Edit
Ad blocker interference detected!
Wikia is a free-to-use site that makes money from advertising. We have a modified experience for viewers using ad blockers

Wikia is not accessible if you've made further modifications. Remove the custom ad blocker rule(s) and the page will load as expected.