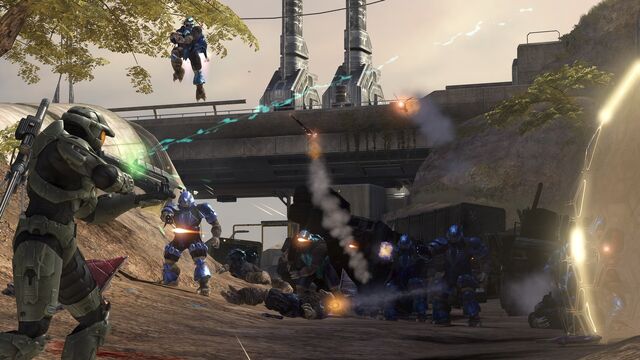 John-117 engages a Covenant attack force while traveling to Voi along Tsavo Highway. The force, a Pack, consists of several Jiralhanae infantrymen, some of which are equipped with jump packs. The Jiralhanae forces are primarily armed with Spikers and Spike Grenades, though some are also wielding Carbines. The Chief is armed with an Assault Rifle and a Sniper Rifle.
Off to the side of the battle, a Bubble Shield, previously deployed by one of the Covenant combatants, can be seen. The corpses of several Unggoy and Jiralhanae can be seen lying on the ground. In the background, a large bridge-like structure can be seen; on top of it are the corpses of several UNSC Marines, Unggoy infantrymen, and one fallen Jiralhanae.
The screenshot was taken in Halo 3's Campaign level Tsavo Highway.
Appears on these pages

of
Tsavo Highway is the fourth campaign level of Halo 3. Completion of this level on Normal rewards...
File history
Click on a date/time to view the file as it appeared at that time.