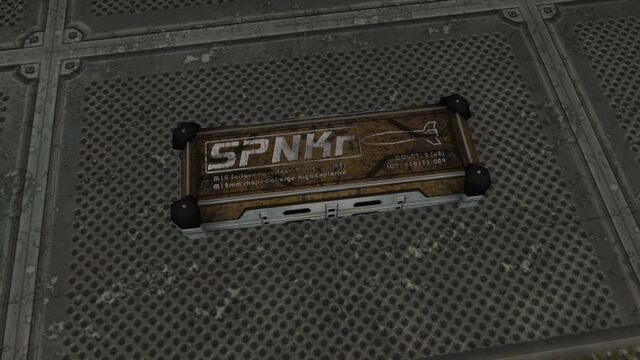 In Halo 3, it is possible to mod a map variant so that it contains Rocket launcher ammo without an accompanying Rocket Launcher. The mod can be performed on Blackout; other levels may also have the Rocket ammo tag.
The ammo takes the form of a small box containing two rockets. The container is actually a leftover from Halo 2; the abbreviation "H2" is seen twice on the box, and the box's cover identifies it as the M19 SSM Rocket Launcher, which was used in Halo 2. However, the Rocket Launchers in Halo 2 and Halo 3 use the same type of rocket, so the box can refill either.
The screenshot was taken by DavidJCobb on a modded map variant of Halo 3's multiplayer map Blackout.
Rocket Ammo by DavidJCobb on 08.12.2009
Unused Rocket Launcher ammo -- two rockets. 08/12/09
Appears on these pages

of
The 102mm High-Explosive Anti-Tank (HEAT) shaped charge can be fired from the M41 SSR MAV/AW...
File history
Click on a date/time to view the file as it appeared at that time.