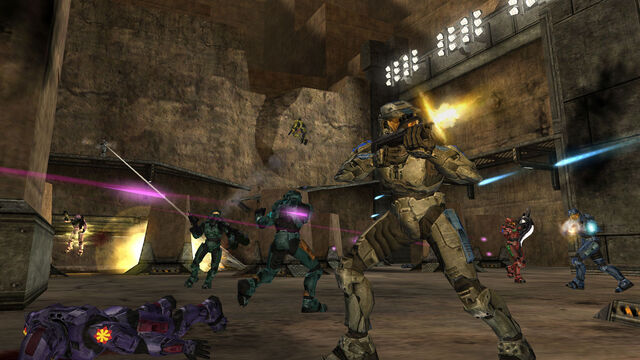 A screenshot of a multiplayer match in Halo 2.
A white-armored Spartan far in the background kills a teal-armored Spartan using a Sniper rifle; the victim was carrying a Battle Rifle and had an SMG as a sidearm, along with two Frag Grenades. A yellow Spartan holding a Rocket launcher jumps down from a ledge; a trail of smoke implies that he fired a rocket whose explosion is still visible; the explosion killed a pink Spartan.
In the foreground, another teal-armored Spartan, dual-wielding SMGs, is shooting either at the pink Spartan or at the dead teal Spartan; behind him, an olive-armored Spartan fires their Battle Rifle at a target located out of the camera's view, while strafing in the general direction of the corpse of a purple-armored Spartan, whose emblem is visible (it's the Seventh Column symbol).
Behind the olive Spartan and to their left, a red and blue Spartan can be seen. The red Spartan is meleeing the air with a Brute Shot; presumably, they were trying to kill the blue Spartan. The blue Spartan is firing a human weapon, and has been hit either with a Plasma Rifle burst or a Plasma grenade; they appear to be firing upon the olive Spartan. Plasma Rifle shots are being fired from off-camera, narrowly missing the red and blue Spartan; the olive Spartan appears to have been firing at the source of these shots. Off camera on the left side, Needler shots can be seen; one of them has hit the surviving teal Spartan, and several have barely missed the red Spartan.
Appears on these pages

of
Multiplayer refers to more than one person playing a game at the same time in a non-campaign...
File history
Click on a date/time to view the file as it appeared at that time.