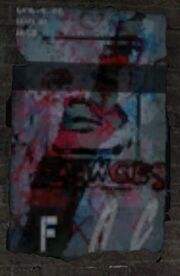 FAC was a movie in New Mombasa, presumably produced in 2552 or earlier. It ran for about two hours.
It was showing at the Voi Theater at the time of the Battle of Earth.[1]
Although unable to clearly see, the full title appears to be, Fences FAC.
There is a face on the poster but it is hard to see.
Ad blocker interference detected!
Wikia is a free-to-use site that makes money from advertising. We have a modified experience for viewers using ad blockers

Wikia is not accessible if you've made further modifications. Remove the custom ad blocker rule(s) and the page will load as expected.