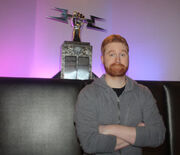 Eric Osborne, more commonly known as 'Urk', is the Community Content Writer and a Community Manager at Bungie. His tasks include regularly updating Bungie.net, including the Bungie Blog, Top Stories, Bungie Favorites as well as the Bungie Weekly Update. Osborne joined Bungie.net as an employee on 10/20/2008, replacing the previous community writer Frank O'Connor who moved on to work at 343 Industries.[1]
External links
Edit
Ad blocker interference detected!
Wikia is a free-to-use site that makes money from advertising. We have a modified experience for viewers using ad blockers

Wikia is not accessible if you've made further modifications. Remove the custom ad blocker rule(s) and the page will load as expected.