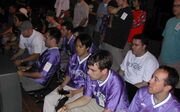 Eamon McKenzie aka 'Informer' is a programmer and engineer for video games. He is also a senior employee at Bungie Studios. Hired as a programmer for Halo: Combat Evolved, McKenzie went on to engineer Halo 2. Not much is known about him, as he has not yet filled out his Bungie.net profile.
Ad blocker interference detected!
Wikia is a free-to-use site that makes money from advertising. We have a modified experience for viewers using ad blockers

Wikia is not accessible if you've made further modifications. Remove the custom ad blocker rule(s) and the page will load as expected.