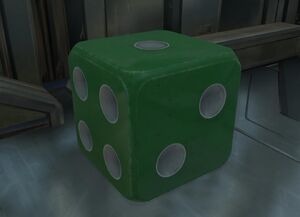 The Die is a Forge Object available in Halo: Reach's Forge mode. It is found under gadgets, then toys. Like any other die, it is a six-sided cube with dots on each side, from one to six in number. What makes this die so unique is its abnormal size; it is as large as a normal SPARTAN-III.
Like a majority of objects, if going fast enough, it can Splatter a player.
Ad blocker interference detected!
Wikia is a free-to-use site that makes money from advertising. We have a modified experience for viewers using ad blockers

Wikia is not accessible if you've made further modifications. Remove the custom ad blocker rule(s) and the page will load as expected.