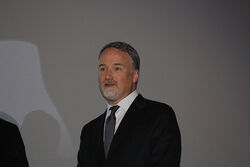 David Fincher is an American film and music video director best known for movies like Fight Club, Se7en and The Girl with the Dragon Tattoo.
It was announced by Microsoft and 343 Industries that David Fincher together with acclaimed visual effects lead Tim Miller has directed the Halo 4 Launch Trailer.[1]
Ad blocker interference detected!
Wikia is a free-to-use site that makes money from advertising. We have a modified experience for viewers using ad blockers

Wikia is not accessible if you've made further modifications. Remove the custom ad blocker rule(s) and the page will load as expected.