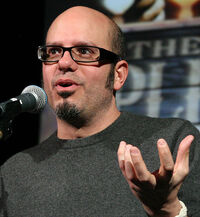 David Cross II has an extensive career in the media. He has worked as an actor, writer, producer, director, voice-over, and soundtrack producer. Born April 4, 1964 in Atlanta, Georgia, USA, he has hundreds of credits to him, more than most other actors who helped make the Halo games possible. He has also worked on several other games such as Grand Theft Auto: San Andreas, where he played the nerd Zero. Some of his more notable film and television credits include Arrested Development, Men in Black I & II, Kung Fu Panda, Year One, and Alvin and The Chipmunks.
Ironically, his contribution to Halo is relatively small. He's one of several voice actors to voice the hundreds of Marine voice clips found in Halo 2.
Ad blocker interference detected!
Wikia is a free-to-use site that makes money from advertising. We have a modified experience for viewers using ad blockers

Wikia is not accessible if you've made further modifications. Remove the custom ad blocker rule(s) and the page will load as expected.