This article is a stub and does not have enough relevant information. You can help by expanding it.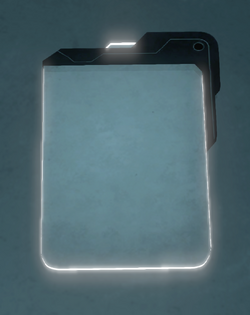 A Data pad is a piece of technology used by the humans. Data pads are portable computer pads that store information, files, pictures, and sounds.[1]
Dr. Catherine Halsey kept a pad of information with her about the SPARTAN-II candidates as she began to research them. She also appeared to have this technology on her glasses, as she could pull up and read files on them. Similar to modern day devices of the same nature, they can be password protected or in Dr. Halsey's case, sensitive to her retinas only.
The TACPAD appears to be a military application of the Data pad.
Related pages
Edit
Ad blocker interference detected!
Wikia is a free-to-use site that makes money from advertising. We have a modified experience for viewers using ad blockers

Wikia is not accessible if you've made further modifications. Remove the custom ad blocker rule(s) and the page will load as expected.